The ramifications of Covid-19 have been, and will be for some time, extensive. Facing a global pandemic is not something most businesses plan for. From a shift to working at home, to a fragile economy in shock, the current lockdown restrictions are taking a toll on everyone.
As soon as Covid-19 started to ramp up, we started hearing from customers about the challenges it was presenting to them. These were savvy business owners with solid, strategic marketing plans – the problem was, they were old plans. A new situation requires new messaging. Standing still is not an option and pushing ahead with your original plan is unlikely to have the desired outcome. You need a new, highly focussed marketing plan.
Pivot, pivot, PIVOT!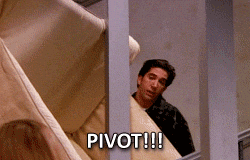 In order to ensure your business survives the current tempest, you need to re-assess your target market's needs and show that you understand them. This will generally mean pivoting your original strategy and messaging.
"The most recurrent comment we heard was that businesses were still trying to deliver their services in line with a pandemic–free, business as usual, world. But that's not where we are right now, so instead businesses should be rethinking their strategies and honing in on what's the absolute priority for their business and people right now" says Melanie Unwin, Director at Mogrify.
There are some uplifting examples of Australian businesses quickly pivoting their services, across a wide range of sectors.
For companies with an IT focus, the result of the shift to work from home has created a surge in businesses migrating to the Cloud and embracing modern workplace technologies. Where messaging may have once focussed on multiple elements of Cloud technology, it now needs to pivot to address concerns felt by customers right now.
"Refocusing on a specific element of your marketing can help you accelerate your business forward by catering to a need that there is clearly demand for, even if this wasn't part of your original strategy," adds Melanie.
Streamline your processes, automate, nurture and create 
Another common pain felt by businesses we've spoken to in the last few weeks is the need to streamline their processes. When it comes to marketing, this can include automating processes that might have once been manual. Marketing Automation platforms are a great remedy for this particular headache, as once set up, prospects can be fed useful content and put into nurture programs.
"We've seen so many clunky or incorrectly configured marketing automation platforms that it can sometimes be hard to understand their full power. But from a marketing perspective, these platforms can be incredibly powerful and cost-effective, driving activity with limited input, making them a valuable asset to any business, especially right now" notes Melanie.
We've also had reports that there is a need to ramp up marketing activity because lead generation efforts to date have centred on arranging face to face meetings or have followed an events strategy. You obviously can't push forward with this strategy, but it is also not good business sense to just stop what you have been doing.
"If you've spent time and money on lead generation, you need to maximise this investment, not waste it. If you can't carry on with a face–to–face approach, use this time to go back and look at the lists you have built, the contacts you have made, and ramp up your nurturing. When did you last speak to these people, what did they need then? What might they need now? What can you offer them?" says Melanie.
Get your ducks in a row, and supercharge them too 
For some businesses, there has been and will be, a lull in core business activity. This can be daunting. For businesses at the smaller end of the SME spectrum, the ATO's PAYG refund offer may help alleviate some of this concern. Reduced activity is time that can still be used positively to drive your business forward. For example, it is a great opportunity to ensure you have a full bank of good quality core marketing assets.
If marketing has not previously been a focus for your business, this is a good time to think about your long-term goals and what collateral and content you will need to put this plan in action.
"Using this time to your advantage can allow you to prime your business ready to ramp up when life returns to normal, whatever that may look like! Equip yourself with a full marketing armoury so that when the time is right, you are ready and raring to go," adds Melanie.
Reimagining your marketing now will also allow you to ensure it aligns with your sales activity. Do you have the right assets for your sales and marketing teams, is the messaging consistent? Addressing these questions now will ensure you are prepared for when 'normal' business resumes.
Keep the lights on and the communication constant 
Whatever approach you need to take now, one path best avoided where possible, is to simply halt all marketing activity. Stopping could put all your hard work, time and effort to waste and it can be costly to start again from scratch in six months' time.
"Your prospects and your clients need to see that the lights are on and the wheels are turning. Being out of sight means being out of mind and you don't want to be forgotten. Financially, it is also more cost effective to maintain your marketing activity than it is to stop and have to re-start it down the track," says Melanie.
How we have pivoted to provide relevant support based on market needs
Instead of stopping, businesses need to rethink and move forward. As part of our refocusing at Mogrify, we have listened to the needs of our customers and the broader market and pivoted our approach to cater to these.
Mogrify's new Accelerators offer businesses the chance to address their pain points and, by focussing in on one key marketing goal, drive their business forward. The packages can be mixed and matched to allow your business to get exactly what you need from your marketing.
As part of the initial discovery session, we'll talk through your pain points, your goals and what needs to be done to achieve them. If you are not sure which Accelerator is right for you, contact Mogrify today.